CIG gets behind #SaveOurPharmacies Campaign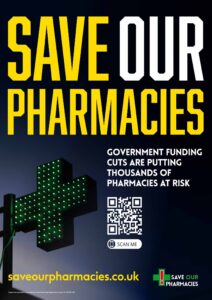 Leading UK publisher Communications International Group is getting behind a new national campaign to draw attention to the growing crisis in community pharmacy in England, as a perfect storm of pressures hits the sector.
Pharmacy bodies PSNC, NPA, AIMp and CCA have joined forces to launch #SaveOurPharmacies – a campaign to both lobby Government and harness public support to push for sustainable and fair funding for this vital community service and what is, for the millions who use it, the 'front door' of the NHS.
To help publicise the campaign and harness both pharmacy and public involvement, CIG has designed and produced  a striking A2 window poster, which is being distributed to pharmacies across the country within the latest editions of its two primary titles – Pharmacy Magazine and P3pharmacy.
Pharmacy Magazine's March edition will hit pharmacy doormats early next week (from March 28), with P3pharmacy's April edition arriving mid-month. CIG has also created a short, animated video to be used in digital store displays, which will also be available shortly.
The posters and video encourage passers-by and pharmacy customers to scan a QR code, which takes them directly to the campaign's website where they will find a range of ways to support the campaign, such as signing the petition. This has already gathered over 30,000 signatures in its first week.
A spokesperson for the #SaveOurPharmacies campaign group said: "Community pharmacies are under more pressure than ever before and this needs to be addressed urgently. This is why the national pharmacy bodies have come together behind the #SaveOurPharmacies campaign.
"There is huge public support for the sector and now is the time to mobilise that support to clearly demonstrate the value of pharmacies to key influencers and policymakers.
"We hope the new window poster – along with all the resources available at www.saveourpharmacies.co.uk – will help as many pharmacies as possible to drum up support from their patients. We're grateful to the team at CIG for helping us to distribute these posters widely across England."
CIG chief executive Felim O'Brien said: "As an integral part of the community pharmacy sector, we are fully behind this campaign and wanted to do our bit to support it and multiply the message.
"The situation for community pharmacies is becoming increasingly perilous – not only financially but in terms of morale amongst pharmacy professionals. We must all work together to bring the sector back from the brink, at a time when it could and should be helping relieve the growing pressure on primary care services, particularly GP practices."
-ends-
For further information please contact:-
Alison Miles
CIG Press Officer
E: alison.miles@1530.com
T: ++ 44 20 7434 1530